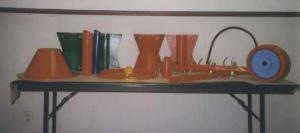 Dixie Precision can cast custom urethane parts, make custom molds, and urethane production runs. .

Our full service urethane department can cast urethane from 20 Shore A to 60 Shore D. We have three ovens to cure many parts at the same time.We have three ovens to cure everything from urethane shoot tubes to urethane industrial rollers. Our 100 square foot oven can cure large urethane parts.

Whether it's urethane prototypes, production runs, or custom cast urethane our Birmingham shop can do it. Our in house machine shop can machine large and small molds.

Typical Cast Products:

Urethane Idle Rollers
Urethane Nip Rollers
Urethane Press Rolls
Urethane Print Rollers
Urethane Applicator Rolls
Urethane Conveyor Rolls
Urethane Wear Pads
Urethane V Rolls
Urethane Hold Down Rings
Urethane Edge Trimmers
Urethane Hourglass Rolls
Urethane Shoot Tubes
Urethane Gas Plugs
Urethane Seals
Urethane Bearings
Urethane Bushings
and many more
Our urethane produts supply a variety of industries.

Pipe Mills
Steel Mills
Print Media
Hydropower
Coal Power
and many more